Case Study: Commercial Office Space Design/Build
Bell Tower Management
Situation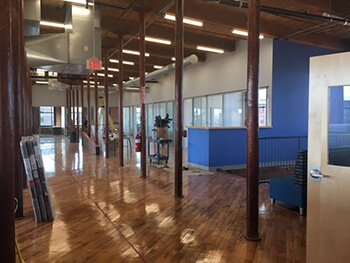 Gary Sidell, owner of Bell Tower Management helps property owners leverage their real estate assets by helping them secure tenants, manage design and space build outs and handle leasing agreements.
Gary's client was a software company planning to move into a 15,000 square foot commercial mill building on Union Street in Lawrence MA. The space was designed to meet the tenants needs. Gary needed a reliable, quality electrical contractor to ensure the space was properly completed to meet the power requirements and to fit within the aesthetics of the interior design of the space. He also needed an electrical contractor he could count on to work well with all the other parties involved in ensuring the space was completed, carefully scheduling and sequencing the work. The completion date was critical and coordination across many contractors was essential to meet the tight schedule.
Solution
Paul Hammond met with Gary Sidell and the tenants to review the design and space layout making suggestions to ensure the data demands of the software company would be met. Recommendations were made for efficiencies and power considerations. As the tenant finalized design considerations, Hammond was flexible and adaptable to accommodate and complete the build out delivering quality work on time and with high professionalism.
Impact/Result
Tight timeline was met. The space is beautiful and the tenant of the space is in and up and running.
This was my first experience working with Paul Hammond and the Hammond Electric team. They were professional, insightful, dependable and flexible. A true pleasure to work with. I highly recommend them and am already talking to them about other projects.
Gary Sidell
Owner, Bell Tower Management LLC